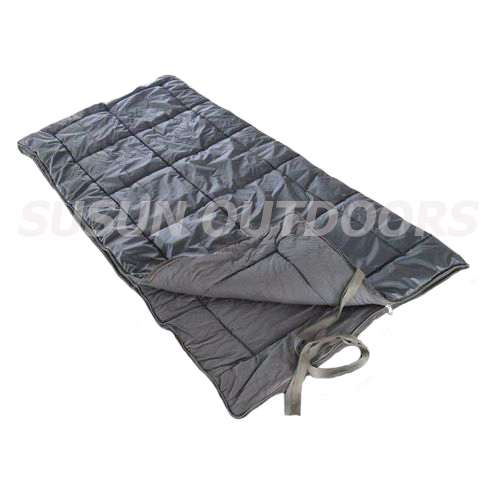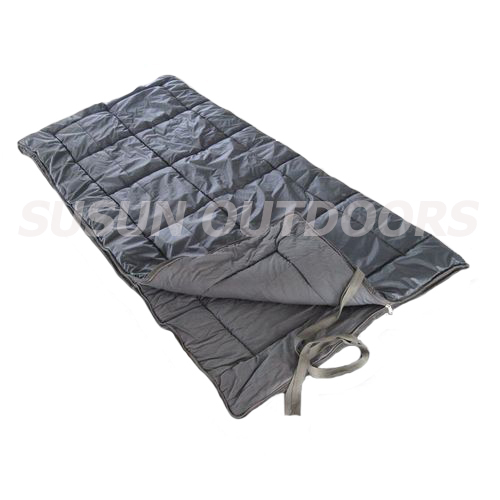 Model Number: SS-AS01
Brand: SUSUN
Place of Origin: China
Style: Military Sleeping Bag
Folded: Yes
Supply Ability: 50000pcs per month
Specifications:
Dimension: 200*85cm
Shell: 190T Polyester
Lining: 30×68 T/C
Filling: 1x250G/M2 Bonded Fiber
Color: Customized
Order&Shipment Information:
MOQ: 1000pcs
Delivery Time: 30days after got deposit.
Sample Lead Time: 10days after confirmation
Price Term: FOB or CIF
Payment Term: T/T or L/C
There are so many models for sleeping bag:
From the shape,  mummy sleeping bag,envelope sleeping bag,fixed sleeping bag
From the filling,  polyester sleeping bag,flannel sleeping bag,down sleeping bag
From the season, 1 season sleeping bag,2 season sleeping bag,3 season sleeping bag,4 season sleeping bag.
Our sleeping bags are produced by good waterproofed breathable Polyester shell,can hold up 3000mmPa. It can give you good feeling wherever in garden or wild outdoor or on mountains.
Our sleeping bag have multiplex materials,Polyester,Cotton,P/C,Flannel. All of them have soft features for people's skins to make them sleeping well.
Our sleeping bags's fillings are Polyester,Hollow Fibre,Spray-bonded Cotton,Silk-like Cotton,Flannel,Duck Down,Goose Down etc. They can catch any temperature required via buyer.
At the same time,we have some sleeping bags specially for army and military, Shell and Lining must be passed the tests. The carry bags are compressed ones.
So we are sure that you can find the right one of your outdoor/camping life.
Military Sleeping Bag
Military sleeping bag/army sleeping bag are mainly used for Army soldiers.
Sometimes army sleeping bag is used by sportsmen and hunters who are out in severe climate, in addition to regular army troops. These are terribly rugged, durable sleeping bags that are designed to function in very frosty climate.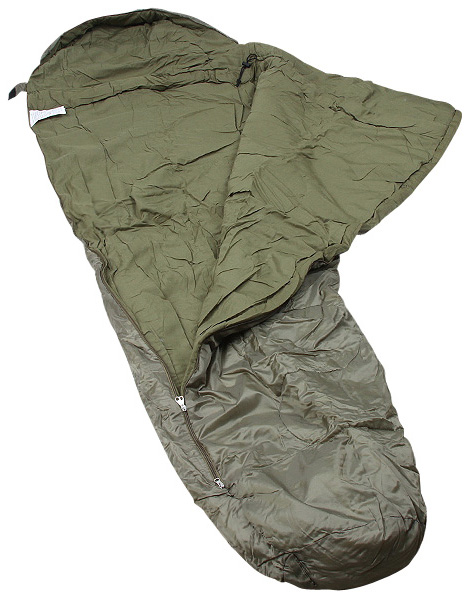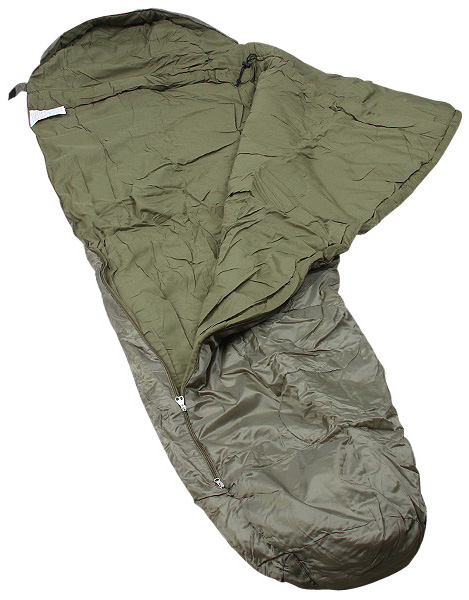 Military sleeping bags needed to be light-weight weight as a result of the troopers had to carry them . They conjointly required to be appropriate for terribly freezing conditions and also the soldier had to possess the power to exit the sleeping bag quickly in case there was an emergency.
The present army issue is the Modular Sleeping Bag system which consists of two mummy sleeping bags, the Intermediate Chilly weather and Patrol, a stuff sack and bivy cover. By combining the Intermediate and Patrol sleeping bags it can offer insulation for up to minus thirty degrees F.
The Intermediate Frosty conditions bag is placed inside the Patrol bag to produce more insulation. The bags are made of ripstop nylon and are water resistant. The sleeping bags also come with a double-pull reversible slider, allowing for bottom or high ventilation, and a draft flap that helps to prevent heat loss.
Army sleeping bags are be with duck down or goose down fillings to keep soldiers warm in cold airs.for the best leads to chilly climate, the sleeping bags will be positioned on high of a sleeping mat created of polyfoam or tree boughs layered beneath the sleeping bag. This helps to prevent heat loss. The army sleeping bag is created to military specifications and could be a terribly sturdy bag that hunters and sportsmen will be terribly happy in harsh weather conditions conditions.